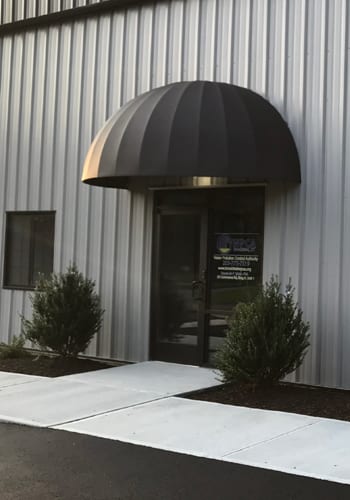 The Brookfield WPCA is an independent utility of the Town of Brookfield with responsibility for the safe and efficient operation of the town sewer system. That system extends from the Southern end of the town border with Danbury on Federal Road to the Northern end of Federal Road bordering New Milford.
There are several branches from that main artery. These pick up the schools, industrial areas, and a new branch that services three condominium complexes plus Whisconier School on the upper east side of the town.
The sewer system uses gravity wherever possible. We don't normally think of gravity as an energy resource, but it is available and reliable. To convey wastewater over the hilly New England terrain, there are an elaborate system of strategically positioned pumping stations at low points that chop up any solids and move water to the final station at the corner of Federal Road and White Turkey Road. There the flow is metered and pumped to Danbury for treatment.
As to operating principles, it has been a long tradition that no WPCA expenses have been paid for by the general pool of Brookfield tax payers. See more on this subject under the Initiatives tab above.
The WPCA has a proud history of operating the system with an eye on reliability, energy and cost efficiency. There continues to be a commitment to improve the sophistication with state-of-the-art monitoring of each installation to hold down costs while improving reliability.
Thank you for visiting this story of the hidden network of pumps and pipes in the Town of Brookfield. This is part of the meta story of America—a paragon of health, safety and welfare among the nations.
We are a culture of acronymns – WPCA? 
The term WPCA is not a local radio station. "Water Pollution Control Authority" is uniquely Connecticut for the sewer authorities in each town. Do a search on the internet and you will discover mostly CT stuff, but that WPCA also stands for:
World Professional Chuckwagon Association
Worldwide Palliative Care Alliance
Well … it is the handle of a radio station in Wisconsin
Wisconsin Paint and Coatings Association
Walker's Point Center for the Arts (Also Wisconsin)
and a host of associations, churches and schools, in the US and abroad.